Home


For mail order CDs, e-mail: winterharp@telus.net
Mail order CDs are $22
(which includes postage, taxes & handling)
PayPal, cheques and e-transfers accepted

Buy CDs instantly on Bandcamp
Click on CDs for info
Our 2020 Release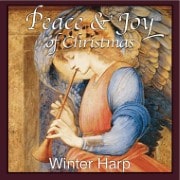 Christmas CD's...
Non-Christmas CD's...

Christmas Stories & Songs
Available on Bandcamp


Hear the Bells on Christmas Morning
What Child is This?
Bring a Torch, Jeannette, Isabella
Friendly Beasts/Away in a Manger
Coventry Carol
In Bethlehem is Born
Patapan
Two Galician carols
On This Day Angels Sing
O Come, O Come, Emmanuel
Silent Night

The Peace and Joy of Christmas celebrates both the gentle and jubilant songs of the season. Right now, more than ever, we need both peace and joy to wash over us, to make us feel whole, to give us that feeling of Christmas even if we can't meet -- whether in theatres for a Winter Harp performance or at home on Christmas Eve with our loved ones. We need the balm of music. And as we couldn't fill your hearts with joy from the stage -- we made this album for you instead.
The Hidden Cove
A Sailor's Life
I Will Search For Her
Origin of the Harp
The Mermaid
I Had a Love
Lisdoonvarna
The Merman
The Lass & Her Sailors
To Drive the Sailors Mad
Are Ye Sleeping Maggie?
Sam
The Siren

In this stunningly-beautiful recording, Lori Pappajohn takes inspiration from poets Thomas Moor, Alfred Lord Tennyson, Shakespeare, and Walter de la Mare in creating the lyrics for her Celtic-styled songs. Harps, flutes, fiddle, cello, percussion and guitar combine with her exquisite singing in this must-have recording. Some of her sailors and sea maidens are whimsical and fun; others are treacherous, mystical and haunting. This is a seductive journey into the watery-blue world of the mysterious rolling sea.
Available on Bandcamp


O Come, O Come Emmanuel
Christ Child Lullaby
An Old Spanish Carol
Hebridean Carol
Path Beyond the Stars
Beneath the Winter Sky
Fields Beneath Snow
Mary's Cradle Song
A Gaelic Carol
Winter's Dream
The Huron Carol
Snows of Lothlorien
The Irish Moor

Gentle songs of winter and Christmas. Soaring vocals, gentle harps, mystic flutes and deep-voiced cellos evoke the beauty and peace of the season.
Available as a digital download only

Greensleeves
First Snows of Winter
Cherry Blossoms
Shenandoah
This is My Father's World
For the Beauty of the Earth
Swan of the West
She Moved Through the Fair
Amazing Grace
Abide With Me
All Through the Night
Gull and Waves
The Water is Wide
Danny Boy

Harp, flutes and the sounds of nature combine to relax and sooth your soul. Includes such favorites as Danny Boy, Greensleeves, Shenandoah and All Through the Night. Soul-stirring melodies -- straight from the heart.
Available on Bandcamp


I Saw Three Ships
Carol of the Bells
Coventry Carol
Chant/Noel Nouvelet
Riu Riu Chiu
Sussex Carol
O Little Town of Bethlehem
Prayer for St. Bridget/Gabriel's Message
The First Noel
Jesus of the Manger
Shepherd's Dance
Evermore Be Merry
Wexford Carol
O Holy Night

This CD captures the magic and energy of our live performance (minus the narration and applause). Revel in the exquisite voice of our baritone Roger Helfrick as well as our other singers. Harps, flutes, percussion, medieval instruments -- it's all here in joyous Christmas splendour.
The Bullfighter's Daughter (excerpt)
La Fiesta
After the Rain
Freefall (excerpt)
Regret (excerpt)
Romanza
Siana's Dream
Girl in the Red Skirt
The Andalusian (excerpt)
Tangiers (excerpt)

Harps, percussion, bass and singing combine in this fun and lively Spanish-styled CD. You'll meet the fiery Girl in the Red Skirt dancing in the village square. You'll feel the passion of the Bullfighter's Daughter. You'll hear the longing of the Andalusian riding his horse by the thundering sea. You'll feel the fervor of Freefall, the fire in La Fiesta and the exotic heart beat of Tangiers. Bring out the sangria, turn on the CD and let the festivities begin. Ole!
Sing We Noel
Angels We Have Heard on High (excerpt)
Good King Wenceslas
An Angel Bright (excerpt)
Morrison's Jig
Little Drummer Boy (excerpt)
Away in a Manger
O Come All Ye Faithful (excerpt)
A Gaelic Carol
Huron Carol
Watch Out
Solstice Dance
Ave Maria (excerpt)
O Come, O Come Emmanuel

This CD features the ensemble's most-popular songs such as Ave Maria, Little Drummer Boy, Huron Carol and Away in a Manger. Throughout the CD, Medieval, Spanish and Celtic carols mix with all-time favorites. You'll also enjoy a poignant Spanish carol, a lively Irish jig and Winter Harp's fun songs such as Watch Out and Solstice Dance. The CD, which features just music, captures the magic and energy of a live performance.
The Three Great Ships
Riu, Riu, Chiu
In the Bleak Mid-Winter
El Santo Nino
The Huron Carol
God Rest Ye Merry Gentlemen
As Lately We Watched
What Child is This?
Lo How a Rose E'er Blooming
Fum, Fum, Fum
The Angel Gabriel
A Gaelic Carol

Gorgeous, rarely-heard carols intermingled with well-loved favorites. The album opens with a haunting Celtic ballad. The spirited song relates the legend of three mysterious ships that appear on the sea on Christmas Day. The album closes with a centuries-old Gaelic melody about a magical starlit Christmas night. From dance-like Basque carols, to haunting lullabies, this is Yuletide music at its best.


Nominated for a VIBE Award
Brilliant and absolutely breathtaking. - Celtic Connection
Pappajohn's crystalline voice is effortless and pure. She is amazing. - Carol Swanson, Christmas Reviews
Loreena McKennitt fans will approve of Pappajohn's lilting voice. - Jeff Bateman, Western Living
God Rest Ye Merry Gentlemen (excerpt)
I Wonder as I Wander (excerpt)
Silent Night
Friendly Beasts/Away in a Manger
While Shepherds Watched Their Flocks by Night
Bring a Torch, Jeannette, Isabella/I Saw Three Ships
Huron Carol
Good King Wenceslas
What Child is This? (excerpt)
Frankincense (excerpt)
A Vos Dona Verge Santa Maria
O Come, O Come Emmanuel (excerpt)

The quintessential Christmas album. A top seller for its distribution companies continent-wide. Regularly heard in December on CBC Radio, the CD features harp, flutes, cello and bells playing a hauntingly beautiful collection of well-known and medieval carols. These gorgeous arrangements will have you dreaming of falling snow and crackling hearth fires.


It is crystal clear, filled with light from within, reverent. - International Folk Harp Journal
Will go over well with the Loreena McKennitt crowd. - Toronto's The Record
A fine, sincere recording. - Lloyd Dykk, Vancouver Sun
Pappajohn displays outstanding artistry in her command of the harp. - Christmas Reviews
Noel! Noel! (excerpt)
Carol of the Bells (excerpt)
Let Us the Infant Greet
A Winter Song (excerpt)
Coventry Carol (excerpt)
The Bellman's Prayer
Winter Harp
Sussex Carol
Carol of the Child
Good King Wenceslas (excerpt)
A Vos Dona Verge Santa Maria
O Come, O Come Emmanuel (excerpt)

A journey into the heart of winter... well-known carols as well as rare and lovely medieval carols. Winter Harp's debut CD remains one of its top sellers. From the ethereal sounds of the organistrum and psaltery to dynamic, rhythmic carols featuring the whole ensemble, this is a CD not to be missed. Celtic, Spanish and classical harps, flutes, cello, medieval instruments, percussion and voice. Named one of the top 10 CD's of Christmas 1999 by The Georgia Straight newspaper.


Compelling and mesmerizing. Winter Harp has a plangent and glittering sound, created from some quite remarkable instruments based on middle-ages models. - The Magic Flute
Everything about this album reflects beauty and balance... the performance absolutely glitters. And the 10 pages of liner notes are a gold mine with photos and lyrics. - Carol Swanson, Christmas Reviews
Available as a digital download only

25 tracks

Gaudete!
Far Away, What Splendor
Masters in This Hall
Lo, How a Rose
O Little Child
Riu Riu Chiu (excerpt)
We Three Kings (excerpt)
Wassail! Wassail!
The First Noel (excerpt)
Oh My Babe (excerpt)
Bright New Year (excerpt)

Winter Harp's musical landscape expands with exotic Middle Eastern influences of oud, sitar and hand drums featured on two songs about the wisemen's desert journey. The CD also includes a solstice song, a Wassail song and exquisitly-arranged medieval English and Spanish carols.
Child's Christmas in Wales Part I (excerpt)
Child's Christmas in Wales conclusion (excerpt)
Carols in the Cotswolds Part I (excerpt)
Carols in the Cotswolds Part II

The CD's carols include:
Good King Wenceslas
Deck the Hall
Carol of the Bells
The Ash Grove
Silent Night
Huron Carol
What Child is This?
This CD features Alan Woodland reading the timeless treasure A Child's Christmas in Wales. Alan's rendition is especially poignant, bringing to life the heartwarming childhood memories penned so eloquently by Dylan Thomas. The CD also includes the delightful tale Carols in the Cotswolds by Laurie Lee. This charming story relates the adventures of young boys carol singing on a snowbound night. With his wonderful, expressive style, Alan takes you back to that memorable night in the winter countryside. Journey with the boys as they trek through their snowy valley, singing carols from house to house, their lanterns lighting the way. When Alan reads these stories, you can see, taste and hear every detail - crisp winter nights, bundled up postmen, freshly-baked pies, and colorful presents for good little boys.
So relax in your favorite chair, and let Winter Harp take you on this magical literary journey to Christmas' past.
The CD also includes interludes of carols on harp, flute and cello.
This CD was featured on CBC Radio's North by Northwest and played in its entirety several times on CBC Radio's nationwide DiscDrive with Jurgen Gothe.


Harps are the perfect accompaniment to this reading of Dylan Thomas' A Child's Christmas in Wales. Chill and wintery, as delicate as drifting snow, they have the ability to carry the mood of this venerated story and they convey something ancient in their sound. - Lloyd Dykk, The Vancouver Sun
You have given us a wonderful gift through this music and story. I know the story has always been there, I just also know, I have never heard it told so beautifully. Thank you. - Pat
Available as a digital download only

The 25 tracks include:
Christmas Eagle (excerpt)
God Rest Ye Merry Gentlemen
The Shepherd's Harp
What Child is This?
Our Cat at Christmas (excerpt)
Come Share the Bird
Eddie's Service (excerpt)
Shepherd's Flute/Huron Carol (excerpt)
There Were Camels
Winter Harp (excerpt)
Those Last Late Hours

Some of Winter Harp's best-loved stories, poems and songs, featuring acclaimed narrator Alan Woodland. Curl up by the fire and let this CD fill you with Christmas warmth and cheer.
Logan Water (excerpt)
Harp Dance
Chanter's Song Prelude (excerpt)
Chanter's Song
Baroque Flamenco
Caravan (The Camels) (excerpt)
Avalon
Las, Las, Las, Las Par Grande Delit (excerpt)
As the White Swans Fly
Johnny Goes to France (excerpt)
The Silkie (excerpt)

Mesmerizing...Haunting...Rhythmic...Dynamic

Nominated for a prestigious Westcoast Music award, Harp Dance features some of Winter Harp's most popular pieces including the rhythmic Middle Eastern-influenced Camel Caravan, and the fiery Baroque Flamenco. Celtic dances mix with music from afar to create an exotic and upbeat collection. Superbly produced, Harp Dance spotlights breathtakingly beautiful arrangements and evocative performances. From the ethereal sounds of the medieval instruments to the exotic mixtures of tabla and Celtic harps, the album transports listeners to other times and places. Instruments: harps, percussion, bass, voice, and medieval instruments.


Pappajohn's vocals are soft and romantic - Ian Scott, Sound Effects
Pappajohn is a powerful harpist who can transport you to other countries and cultures. - Celtic Connection
Available as a digital download only

Minstrel's Dream (excerpt)
First Snows of Winter
Scarborough Fair (excerpt)
What Could Have Been/Tatlayoko Fall
The Water is Wide (excerpt)
Stag and Hound
In Spring We Shall Dance
Sunlight on Fresh Fallen Snow
Seikilos' Song (excerpt)
Mountain Lake (excerpt)
Then Shall I Love Thee (excerpt)

A beautiful blend of the medieval and Celtic styles. Lori Pappajohn on Celtic harp and flutes, with cello, medieval instruments and percussion.
This CD was listed on Jurgen Gothe's prestigious top 20 hit list and was featured numerous times on Jurgen's DiscDrive.


Expert playing...her music reveals a poet's soul and a deep sensitivity. - The Province newspaper
Crystal clear music, the sound of fresh snow and bright moonlight. She is a marvelous harpist, founder of various ensembles, comfortable in all styles. Great studio sound.
- CBC Radio's Jurgen Gothe